"Home" exhibition is now open to the public in the main foyer at The Courtyard Centre of the Arts in Hereford. The installation is a reminiscence of the Edwardian home hallway. There is a big door decorated with a beautiful stained glass, rag rug on the floor, the coat is hanging on the coat rack and pictures are on the side of the (imagined) walls. On the floor, next to the door, is the suitcase. Small, old suitcase that obviously belongs to the soldier. Few clothing items, military booklets and old photographs. The suitcase is packed with memories, but also with the cruel reality of the WWI.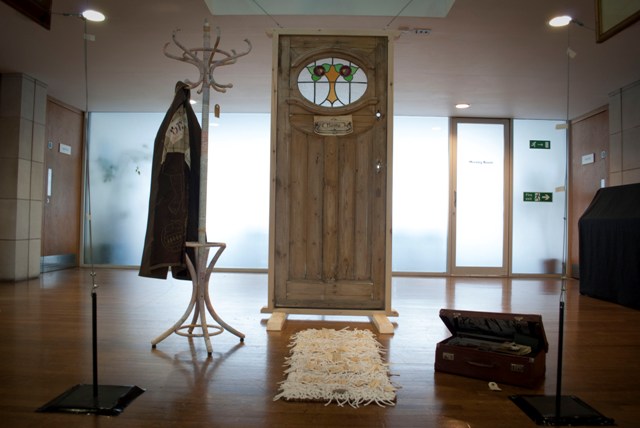 The whole installation is floating in the space and it gives an eerie feeling. I could almost hear whispering voices in other room, saying goodbye to the soldier who visited his family on the short relief. The suitcase is waiting for him.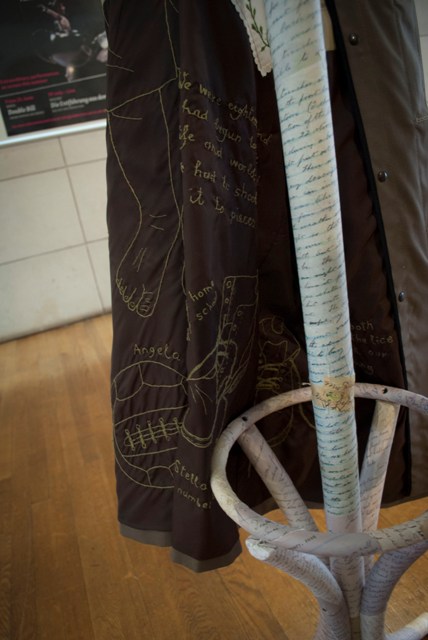 Five artists took a part of the project creating one bit of the installation. I have embroidered the raincoat that was hanging on the coat rack. The thoughts, memories and experiences of the soldiers are stitched inside the coat, and they suppose to stay 'locked in'. The soldier should not show their feelings.
The artist Wendy Oliver has covered the coat rack with old letters from the WWI front lines. Pictures on the wall, "Empty Portraits", are work of the photographer Jack Nelson. He was trying to replicate a period portraits whose subjects are now absent.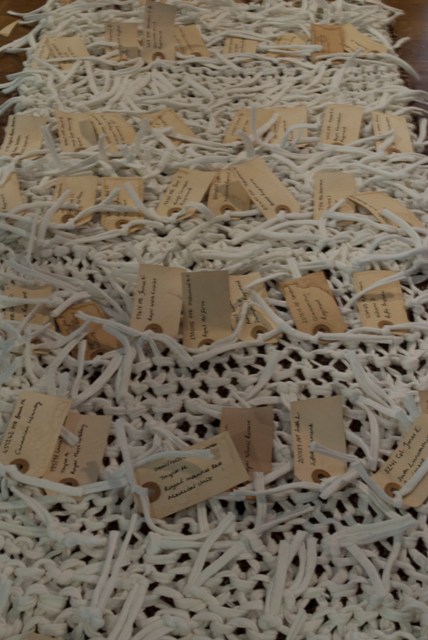 On the floor is handmade rag rug by Moira Grafen-Campbell. She made a minimalistic rug with numbers of tags with names of WWI soldiers, their numbers and regiments. Her work has a title 'We were people, not cannon fodder'.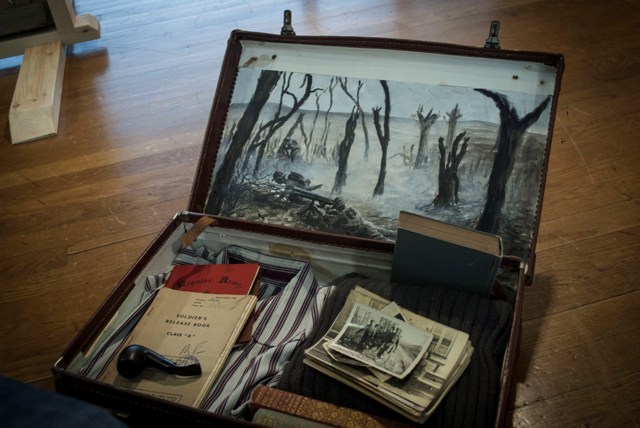 Gareth Evans created the soldier's suitcase. With few pieces of clothes, books, a bunch of photographs and the painting of the devastated land at the front, he created the mixture of memories, hopes, duty and horrendous reality. It's a memory box that reminds us of all difficulties that the soldiers needed to endure.
The exhibition will be open at The Courtyard until 18th July 2015.
The Courtyard,
Edgar Street,
Hereford,
HR4 9JR