A few days ago, quite accidentally I have found a great pic of one of my old art books. It was part of the "3rd International Artist's Book Triennial" in Gallery "Gravicel" (Lille, France). The exhibition was one of few stops of a travelling exhibition that was organised by Bokartas, the Lithuanian art organisation. Circle "Bokartas" since 1997 organised more than 30 international art exhibitions, workshops, symposiums and lectures in Lithuania, Germany, Austria, South Korea, Italy, Sweden, Denmark and France.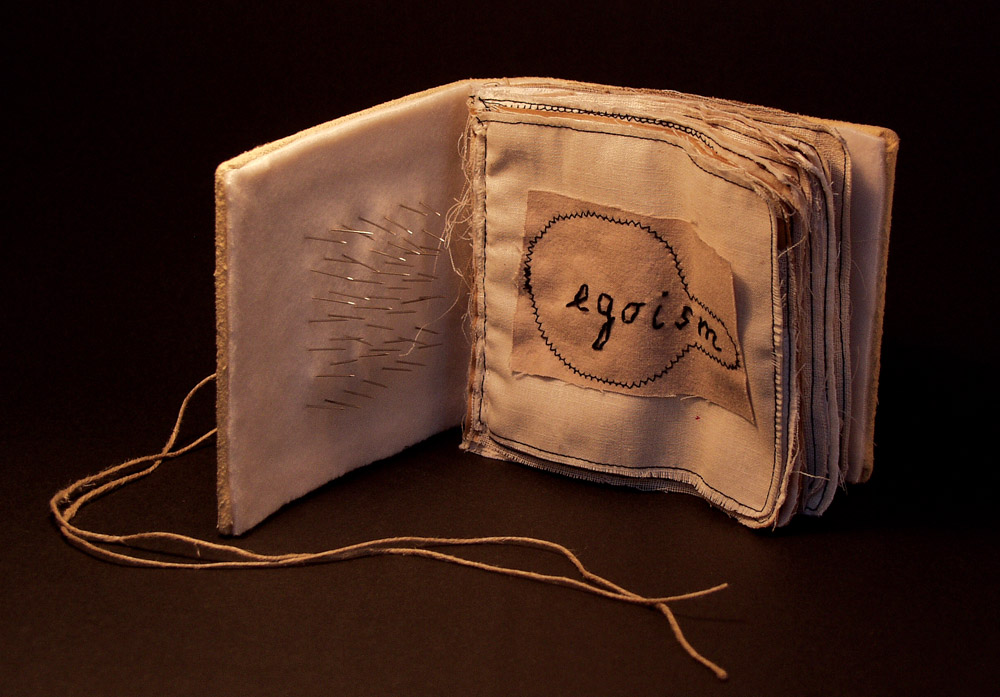 Photo source (Kestutis Vasiliunas, Bokartas)
The 3rd edition of Triennial was exhibited at few venues throughout 2003/2004:
15 May – 15 June 2003, Contemporary Art Centre, Vilnius, Lithuania;
16 May 2003, Conference in the Contemporary Art Centre, Vilnius;
5 May – 10 May 2004, Frankfurt Art Fair, Germany;
15 August – 10 September 2004, Thomas Manas House, Nida, Lithuania;
19 September – 10 October 2004, Gallery "Gravicel", Lilly, France.
262 artists from 44 countries have sent over 1000 exhibits. 119 artists from 37 countries were selected for the exhibition.
The theme of the 3rd Triennial was "23 Sins" and my respond was a little textile book where I wrote/stitched on each page one of big sins: egoism, proud, zealotry, mockery, hatred… Inside of the hardcovers is padded with numerous tailor's pins that go through the pages as the book is closing. I wanted to emphasise the relationship of sins and punishments.
Unfortunately, I never made a photo of this book, and after the exhibition, it stayed in the possession of Bokartas. Finding an excellent photo of the book after 10 years is just amazing (and surprising).
One of my art books was selected for this year's Triennial with the theme "Error". The exhibition is confirmed to be shown in Lithuania, Germany, Italy and USA.