The part of the Croome Redefined Project is Soul to Sole multidisciplinary and multi-sensory installation, where up to 144 artists over the period of next four years will have a chance to reinterpret one of the characters from the Croome Court history within a pair of shoes. The installation will be located in the basement, in one of the shoe racks. The artist will have an opportunity to create their project using the archive material of Croome Court and their own imagination and so to create a unique artwork that will link future visitors to the Croome's fascinating history.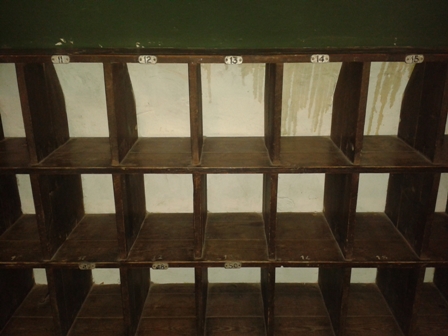 The shoe rack where the installation will be finally presented to visitors
This project occupied my mind from the very start. For someone who loves history as I do, it is a perfect project. From the beginning I have choose to tell the story about Fanny Ward, the housemaid who worked at Croome in the late Victorian period. Her life intrigued me, as I know that job of domestic servants in that time was hard, yet good and secure in the years of austerity. Thinking of domestic servants, you can't really not to think about Downton Abbey saga. But the real life of Victorian servants was a bit different. Though it was labour intensive job to do, we have to bare in mind that for girl who came from poor and, very often, large family it was the only way to make her way through the life. Food and clothing, roof above the head and money to save for the days of retirement was what they got for serving the wealthy families. And if the family treat them well, it was the good life for the young low-class girl. Until World war I, domestic service was the biggest single source of work for women in Britain.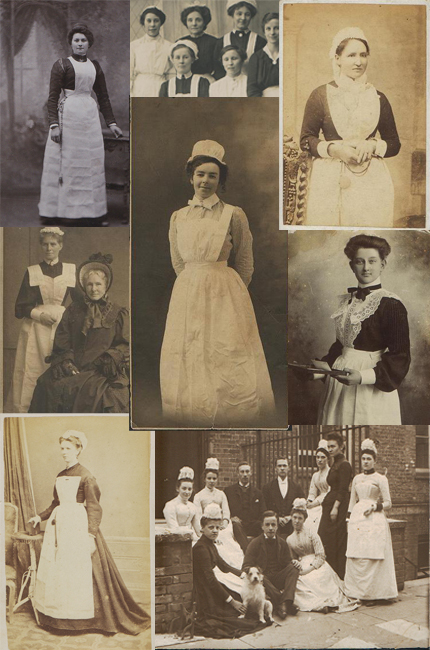 Domestic servants of Victorian Era
The other side of the coin was the life far from the family and friends, strict rules in relationship with your employers and fellow servants and back-breaking work from dusk till dawn.
So, who was Fanny Ward?
Fanny, the youngest daughter of Samuel Ward and Frances Mellows, was born in 1857, in place called Firbeck, South Yorkshire.  Her first job as domestic servant was in Tatton Park (Cheshire) where she starts to work in 1878. I can imagine her leaving a home at 21, all alone, finding herself in a big house with plenty of rules – and she must be terrified.  However, when she came to Croome Court, she have had a years of experience as the housemaid, working in places such as Hatfield House, 11 Carlton Terrace in London, Taplow Court, and Harewood House (which grounds are, like at Croome Court, landscaped by Lancelot 'Capability' Brown).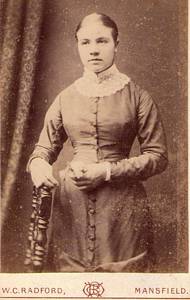 Young Fanny, pictured before she left her home
At Croome Court she spent a short 2 years and it was her last working place. Apparently, she met Osborne H. Tingly, from Cirencester, who came to Croome to do the some roof repair. Well, I don't know what exactly happened, but the Fanny and Osborne married on 28th October 1894, in Worksop (Nottingham) and Fanny left service.   They had 2 sons, Edwin (1895-1916), who was killed in First World War, and Bertram (1899-1995). Osborne's son Harry also lived with them. My guess is that they lived around Cirencester.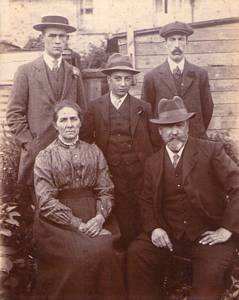 Fanny and Osborne Tingle with their sons (1912)
Fanny Ward died in 1944 and I believe she's buried at Stratton Cemetary in Gloucestershire.
The project proposal
What I would like to create is an intimate story of Fanny's day-to-day life, and turn the shoe rack into a small bedroom as Fanny might have had in Croome Court. For 16 years of her life in service, her small room would be her whole world.
I am proposing the work that will be based on writing and textile. Writing, because I have a feeling that words in the form of letters, diaries or memoirs will give us today the best insight into the servant's life of the bygone era.  Textile, because it is a soft, intimate and essentially feminine material.  Fabrics and threads will also show certain connections between Victorian women and me, as a contemporary textile artist.
Unfortunately, there is no much documentation about Fanny Ward and her service at Croome Court.I was so lucky to have a chance to contact Fanny's grandson, Mr Robin Tingle, who gave me the crucial information and inspiration to get a grip on this project. Many thanks to him for the kind permission for usage of photographs and information.
More about the development of my project will be posted soon to this blog.
Bibliography:
"Diamonds at Dinner", Hilda Newman and Tim Tate, John Blake Publishing Ltd 2013
"Working Life in Britain 1900 to 1950", Janice Anderson, A Futura Book 2007
"The Real Downton Abbey", Jacky Hyams, John Blake Publishing Ltd 2011
Related links: