For the past 10 years or so, I'm often doing embroidered  'fly portraits'. Flies are so fascinating creatures, yet often scorned and hated by humans. Considering their lifestyle perhaps we have a good reason for such an attitude towards them.  However, my work is a reminiscence of my childhood when I spent a lot of time in a countryside, admiring the wonders of nature such as wild flowers, butterflies, various bugs, and, of course, flies. Sadly, I used to catch them and pack them in the matchboxes.This work is a redemption of my childhood sins. I wanted to create a kind of a monument, a homage, to all the flies of the world.
I want to show not the relationships in the natural world, but how human beings experience  the nature that surrounds us all. We're often unfair, irrespective and full of negligence, due to the ignorance or indifference.
Work is hand embroidered with cotton thread on fabric and packed in beautiful England's Glory matchbox.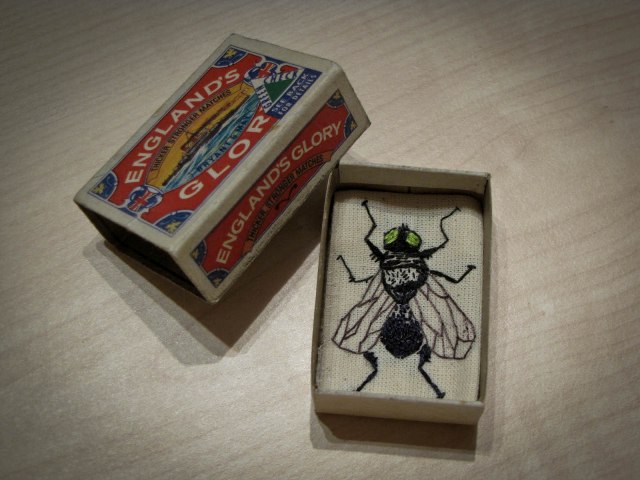 The work is selected to 2014 exhibition Matchbox Microcosms / Mini Museum Marvels of Curiovan: Explorium of Natural Wonderment*. This travelling exhibition will show 50 matchboxes, chosen by Richard Wilson, who was nominated for a Turner Prize.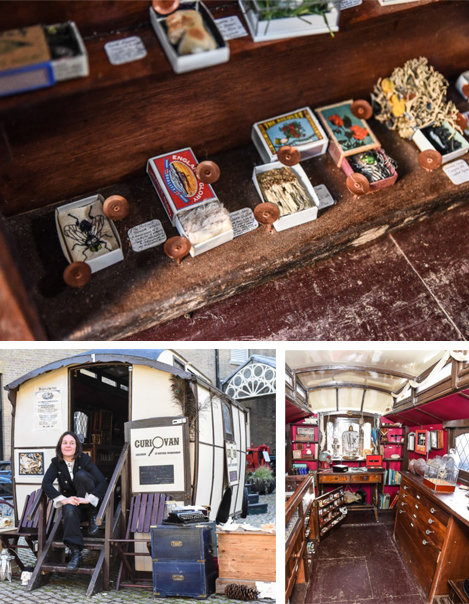 Exhibition dates:
Gressenhall Farm & Workhouse Spring Fair (April 21st)
Blissfields Festival (July 4th and 5th)
Latitude (July 17th – 20th)
Green Gathering (July 31st – Aug 3rd)
Wilderness (Aug 7th – 10th)
Beautiful Days (Aug 15th – 17th)
Blackburn Heritage Festival, A Carnival of Curiosities (September 13th – 14th)
* "Curiovan" is a traveling gallery/museum, curated around an imagined Victorian explorer's library and cabinets of collected curiosities. A magical Natural History Museum where insects, skulls and specimens in jars, jostle for attention with minute skeletal fairies, singing mechanical birds, and dancing skeletons.